Summary
France has put tough new restrictions on travellers from the UK, who will need a "compelling reason" to travel there
From Saturday, travellers will also have to have a negative Covid test within less than 24 hours
The Bank of England has raised interest rates from 0.1% to 0.25% despite fears Omicron could slow the UK economy
It is responding to surging inflation, with the cost of living surging by 5.1% in the 12 months to November
England's chief medical officer Chris Whitty has told MPs that people must make their own choices about festive socialising
And he has reiterated that there is still debate about whether Omicron inflicts a milder version of the illness
The Royal family's pre-Christmas lunch is meanwhile cancelled due to fears it would risk too many people's festive plans
And business groups are asking the government for help as customers cancel bookings due to record UK Covid cases
France restrictions a hammer blow – travel industry
We've got some more reaction now from the travel industry to France's tightening of Covid restrictions for people travelling from the UK.
Mark Tanzer, chief executive of travel trade association Abta, says the measures are a "hammer blow" .
"The winter sports and school travel markets are particularly exposed, and the government must now bring forward a support package if we are not to see company failures and job losses," he says.
Ferry operator DFDS says it is continuing to run its services as usual and warns it expects Friday to be busy as people get away for Christmas.
"We hope that these short-term measures in response to the spread of the Omicron variant will be lifted in the new year," the operator adds.
France drastically restricts travel from UK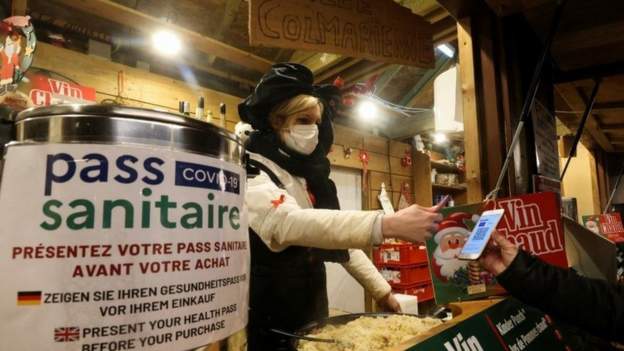 As we've been hearing, France is set to tighten Covid restrictions for travellers arriving from the UK, as its government tries to slow the spread of the Omicron variant.
From Saturday all non-residents will have to give a compelling reason for travelling to France – tourism and non-urgent work do not qualify.
Confirmed Omicron cases are currently much higher in the UK than in France.
The UK reported a record 78,610 new Covid cases on Wednesday, with 10,000 confirmed as Omicron.
France, in comparison, reported 65,713 new Covid cases over a similar period but has only confirmed 240 cases of Omicron.